Patient-friendly laser treatment for increasing the quality of a patient's sleep.
NightLase can reduce and attenuate snoring and provides an effective, non-invasive way to lessen the effects of snoring.
TMJ SLEEP THERAPY
We Treat The Following Sleep Related Breathing Disorders and Craniofacial Pain:
Obstructive Sleep Apnea
OSA is a condition in which breathing repeatedly stops and starts. This happens when the soft tissue in your throat collapses or relaxes during sleep.
Snoring
You might think that snoring is just a nuisance, but it could be a sign of something much more serious – obstructive sleep apnea (OSA).
Chronic Pain
If you're experiencing chronic neck, face, or head pain, this could be a TMJ disorder. But if you're not sure about that diagnosis, we can help.
TMJ Pain
TMJ pain is an issue that affects millions of people worldwide, but it's one that many sufferers don't even realize they have.
Orthopedic Dysfunction
Chronic orthopedic conditions, such as arthritis and bursitis, affect the musculoskeletal system – most commonly the bones or joints.
Migraines
The symptoms of TMJ are very similar to other conditions like migraines or tension headaches so it is often misdiagnosed by doctors.
Laser Therapy
Fotona's NightLase can reduce the effects of and decrease the amplitude of snoring by means of a gentle laser treatment of the mucosa tissue.
Jaw Clenching
Jaw clenching is a condition that can lead to a number of problems, including headaches, jaw pain, and tooth damage.
Teeth Grinding
Teeth Grinding (Bruxism) can lead to a number of problems, including headaches, jaw pain, and damage to the teeth. In severe cases, it can even cause jaw joint problems.
Jaw Clicking
If you suffer from Jaw Clicking, we can provide several solutions that can help to reduce or eliminate the clicking sound.
Jaw Popping
If your jaw is popping constantly, it is important to contact TMJ Sleep Therapy Center of Reno so that we can assess the severity of the problem and recommend treatment.
Myofunctional Therapy
Myofunctional therapy is an evidence-based form of treatment that addresses the tongue and facial muscles. It helps improve the function of these muscles, as well as improve overall oral health.

Providing Non-Surgical Therapies | Restoring Quality of Life
At TMJ & Sleep Therapy Centre of Reno we understand the unique complexities of sleep-related breathing disorders and craniofacial pain. Do you have TMJ pain or dysfunctions? Patients often experience facial neuralgias and musculoskeletal pain in conjunction with headaches or migraines.

Are You Experiencing Any of the Following?
E

Snoring

E

Jaw Clenching

E

Grinding Teeth

E

Morning Headaches

E

Insomnia
Any of the above could be a sign of sleep-related breathing disorders and should be evaluated promptly.

Do You Suffer From Frequent Migraines?
Do you have TMJ pain or dysfunctions? Patients often experience facial neuralgias and musculoskeletal pain in conjunction with headaches or migraines.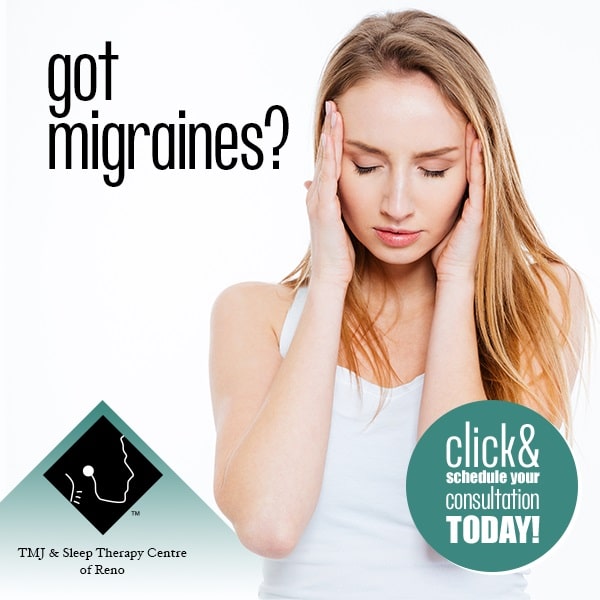 obstructive sleep apnea
Obstructive sleep apnea (OSA) is caused by an airway blockage (obstruction) during sleep. During the day, muscles in the airway region keep the throat and airway passage wide open but when a patient has obstructive sleep apnea, the throat collapses during sleep, blocking the airway and preventing air from getting to the lungs.
The site of obstruction in most patients is the soft palate, extending to the region at the base of the tongue. There are no rigid structures, such as cartilage or bone, in this area to hold the airway open. So as a person with OSA falls asleep, these muscles relax to a point where the airway collapses and becomes obstructed. Enlarged tonsils and small structural features of the maxilla /nose, mouth and throat may contribute to OSA. Proper evaluation and testing is needed for accurate diagnosis.
Sleep apnea can only be diagnosed by a medical physician. Screening for signs and symptoms can be found through routine dental examinations.

Craniofacial Pain
Some patients may experience TMJ pain and dysfunctions, some patients experience primary headaches or migraines. Other patients may have facial neuralgias, musculoskeletal pain or a combination of all! Often these problems, are symptoms of a greater problem affecting the body, much like a fever is secondary to the flu. In the absence of an acute injury to the head or face, the primary cause of jaw problems is frequently related to the body not getting enough oxygen during sleep.
SIGNS AND SYMPTOMS MAY INCLUDE:
Headaches
Migraines
Trigeminal Neuralgia
Capsulitis Of TM Joint
Face Pain, Numbness, Tingling, Shocking
Jaw Pain, Clicking, Popping, Crunching, Locking, Jaw Noises
Dizziness
Teeth Clenching, Grinding
Pain When Chewing
Bite Feels Off Or Different Than Before
Numbness In The Arms Or Legs
Pain In The Base Of The Skull And Neck
Shoulder Pain
Burning Mouth
About Dr. Tammy
Suffering from sleep apnea herself, Dr. Tammy has a passion for helping her patients improve their quality of sleep, their quality of health, their quality of life.
Dr. Tammy's trained under her personal mentor, Dr. Steve Olmos, President of the American Academy of Craniofacial Pain – the foremost association of dentists pledged to treating temporomandibular disorders, craniofacial pain, and obstructive sleep apnea and snoring.
After realizing the tremendous results Dr. Olmos' protocols produced treating patients who suffer from these disorders, Dr. Tammy joined the other 44 Centres of Excellence spanning 7 countries so she could help her patients as well.
The success of these Centres is based on a whole-system approach, rather than focusing on only one component of the problem in isolation. Multi-discipline referral coordination has allowed Dr. Tammy to provide a team approach to help patients finally find answers and successful treatment results.
Dr. Tammy has implemented these protocols within her dental practice improving her patients' quality of life.
educational video library
Address:
9710 S McCarran Blvd.
Reno, NV 89523